Leverage our experience and file your Form 3, 4, or 5 through our self or full serve offerings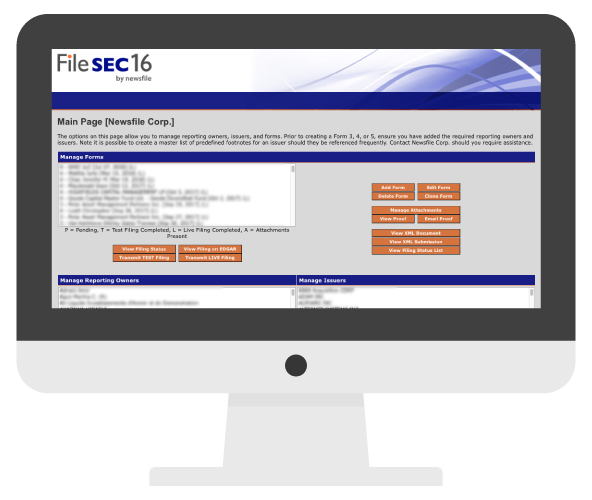 Self Service
Create an account with FileSEC16, our web based Form 3, Form 4, and Form 5 filing software. Build and transmit Section 16 filings to SEC EDGAR, share proofs, and clone previous filings to save time. Import previously filed Section 16 documents from the SEC website. Avoid SEC EDGAR timeouts and pay as you go.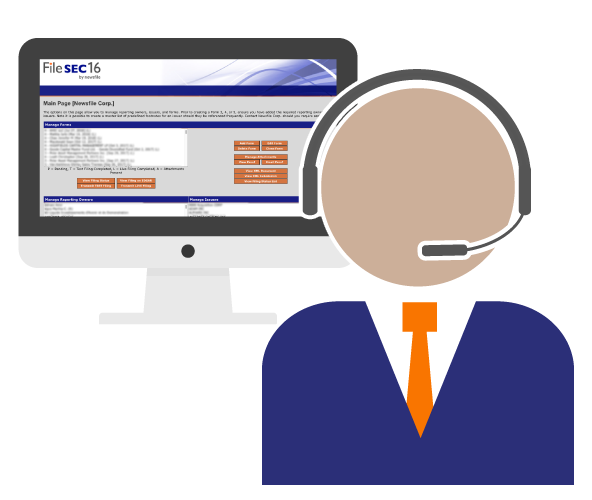 Full Service
Complete a Form 3, Form 4, or Form 5 template and email it to us along with your filing codes for processing on your behalf. If you do not have EDGAR filing codes we can work with you to obtain them. Requests for new EDGAR filing codes can take the SEC several days to process so please ensure sufficient time is provided to address this part of the process.
About Section 16 Form 3, 4, and 5 Filings
Section 16 of the Securities Exchange Act of 1934 describes the various regulatory filing responsibilities that must be met by directors, officers and principal stockholders. According to Section 16, every person who is directly or indirectly the beneficial owner of more than 10% of the company, or who is a director or an officer of the issuer of such a security (a "reporting owner"), shall file ownership reports as required by this subsection with the SEC. Ownership reports are filed on Form 3, Form 4, and Form 5 and include one or more reporting owners for a given issuer.
What you will need to submit a Form 3, Form 4, or Form 5 filing to SEC EDGAR
Reporting Owner CIK and CCC
Ensure you have the required EDGAR filing codes — a CIK and CCC is required for each reporting owner included on a Form 3, Form 4, or Form 5. Filing codes can be created by submitting a Form ID if the reporting owner is not currently registered with the SEC. Newsfile can apply for filing codes on your behalf, if requested.
Issuer CIK and Trading Symbol
Ensure you have the issuer's CIK and trading symbol. To find an issuer CIK, use the SEC's Search Companies and Filings or EDGAR CIK Lookup.
SEC EDGAR Form 3, Form 4, and Form 5 Resources
The following are relevant news articles and resources relating to the creation and filing of Form 3, Form 4, and Form 5:
The following are links are related to completing Forms 3, 4, and 5: