DGTL Holdings Inc. Completes Integration and Revenue Growth Program for Hashoff
Toronto, Ontario--(Newsfile Corp. - September 1, 2020) - DGTL Holdings Inc. (TSXV: DGTL) ("DGTL" or the "Company") is pleased to report that it has completed the operational integration and revenue growth program for its wholly owned subsidiary, Hashoff LLC.
This revenue growth program supports the Hashoff share exchange agreement which requires Hashoff to meet, or exceed, an annual sales revenue milestone of up to US $8,000,000 (on or before June 30th, 2023) to receive 100% of cash payments.
The formal integration of Hashoff's business operations represents the first step in the process of activating Hashoff within the DGTL Holdings incubator program. In this model, the DGTL senior leadership functions as a co-ax management team by developing incubation strategies and corporate development plans that actions; revenue growth, enhanced profitability, organizational development, and operational efficiencies.
Firstly, DGTL Holdings Inc. has successfully integrated and consolidated all of Hashoff's business operations. Hashoff has now trained and activated fourteen full-time operational staff. Hashoff is also training additional hires to begin in September 2020. Hashoff's operational staff will report to the Hashoff senior executive from the DGTL corporate head offices, located at 85 Broad St. in the New York City financial district.
In addition, Hashoff's back office administration, capital markets management and corporate governance is now supported by a DGTL corporate services department. This team includes key members of the DGTL board and senior executive management team, including a Chief Financial Officer, an in-house legal counsel, and an Executive Vice President of Corporate Development.
This DGTL corporate services department has completed the consolidation of the DGTL and Hashoff financial statements, in preparation of filing audited annual financials for the fiscal year ending May 31st, 2020 (due on, or before, September 28th, 2020).
Secondly, DGTL has also begun the implementation of Hashoff's assertive three-year revenue growth program. Program deliverables include activating the new business development department team to execute key account penetration tactics, and marketing to new growth markets and underserved brand categories (both globally and domestically). This revenue growth program will also support software development of Hashoff's technologies to service new digital media platforms such as; TikTok, SnapChat, Twitch, Triller, Reels, and others.
Steven Goldberg, Chief Operating Officer at DGTL Holdings, reports, "We are pleased with the speed and efficiency at which Hashoff's organization and administrative processes have been integrated, and optimized. This allows DGTL to better support Hashoff as it executes on its three-year revenue growth program. Hashoff has operated effectively during this COVID-19 global pandemic, while expanding as an organization, which is a clear indication of a solid foundation for long term and scalable growth."
Under a diversified AI-Adtech holding company model, DGTL incubates and accelerates the growth of acquired assets through; executive leadership, strategy and stewardship, as well as operational, engineering, financial and administrative resources. New incubation processes and procedures are continuing to be added to support these business development growth strategies, and will be added to the program over the coming months.
Moving forward, DGTL seeks to support and accelerate Hashoff's three-year growth plan. In addition, DGTL's deal desk committee continues to evaluate new opportunities for accretive acquisitions of additional enterprise level SaaS across the key growth areas within the advertising technology industry (i.e. content, distribution, and analytics).
HASHOFF LLC
Hashoff is an enterprise level self-service CaaS (content-as-a-service) built on proprietary Artificial Intelligence and Machine Learning (AI-ML) technology. Hashoff's AI-ML platform functions as a full-service content management system, designed to empower global brands, by; identifying, optimizing, engaging, managing, and tracking, top-ranked digital content publishers, for localized brand marketing campaigns. Hashoff is fully commercialized and currently serves numerous global brands by providing direct access to the new global gig-economy of over 140 million freelance content creators. Hashoff LLC is a wholly owned subsidiary of DGTL Holdings Inc.
Hashoff's customer portfolio includes large multinational corporations (MNCs), in a range of categories. Global consumer packaged goods customers include; Anheuser Busch-InBev, Nestle, Post Holdings, Danone and Keurig-Dr. Pepper, etc. Retail brand clients include; Dunkin Brands, The Container Store, TJ Maxx, Ulta Beauty and Pizza Hut, etc. Hashoff's clients in the Arts and Entertainment sector include; Live Nation, The CW and Scribd. Finally, healthcare sector clients include Syneos Health and Novartis.1
DGTL HOLDINGS INC.
DGTL Holdings Inc. incubates innovative and disruptive digital media and advertising technology companies, powered by Artificial Intelligence (AI). DGTL (i.e. Digital Growth Technologies and Licensing) specializes in accelerating fully commercialized enterprise level SaaS (software-as-a-service) companies via a blend of unique capitalization structures, including investment, M&A, earn outs and licensing structures.
For more information, please visit https://dgtlinc.com.
Investor Relations
Email: IR@dgtlinc.com
Phone: +1 (877) 879 - 3485
NOT FOR DISTRIBUTION IN THE U.S. OR OVER U.S. NEWSWIRES
---
1 Current and past customers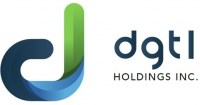 To view the source version of this press release, please visit https://www.newsfilecorp.com/release/62973