Bloom Technology Partners Up with Myung Shin to Develop a Web3 Smart Mobility Platform
Seoul, South Korea--(Newsfile Corp. - January 19, 2023) - Bloom Technology, the developer of the next-generation blockchain platform Locus Chain, entered into a strategic partnership with Myung Shin, an auto parts manufacturer that implements a hybrid hot stamping method to supply automotive body parts to global car manufacturers.
Myung Shin's primary business is consignment production, development, manufacturing, and supplying car body parts of electrical vehicles to leading global automotive manufacturers. From 2016 to 2019, Myung Shin's annual revenue growth averaged 61%, grossing 2 billion USD in revenue as of 2022.
Myung Shin and Bloom Technology agreed to co-develop the Web3 smart mobility platform based on Locus Chain.
Locus Chain, a brainchild of Bloom Technology, is a public blockchain of the next generation that solves performance and scalability issues while maintaining full decentralization. The small size of a node in the Locus Chain network enables running the blockchain even on IoT devices where maximizing performance while maintaining the size of the application low is critical.
The technology has found extensive applications in industries requiring heightened traceability and transparency, such as smart cities, transportation, smart mobility, and video games. In December 2022, Bloom Technology launched the first serverless online game, "Kingdom Under Fire: War of Heroes," on Steam with the application of Locus Chain.
Through the partnership, Myung Shin and Bloom Technology take aim at revamping the smart mobility industry, traditionally gatekept by the entrenched manufacturing process and hardware-software bottlenecks.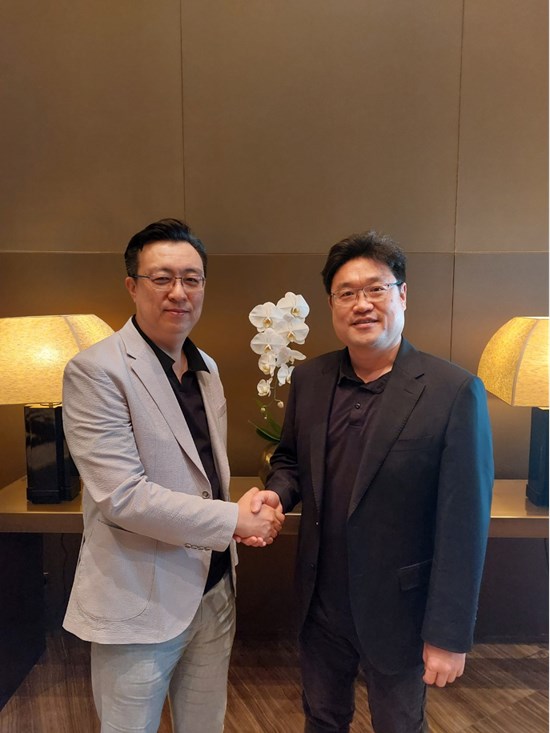 CEO of Bloom Technology Sang Yoon Lee on the left, Chairman of Myoung Shin Co., Ltd Tae Kyu Lee on the right
Tae-Kyu Lee, Chairman of Myung Shin, said, "The automobile industry centered on internal combustion engine is shifting to eco-friendly energy utilization and 5G communication-based connected mobility, and automobiles are evolving into a complex space where various contents are experienced, moving away from the existing run-off-the-mill means of transportation. We intend to actively respond to the automotive industry transformation by linking Bloom Technology's outstanding software technology and development capabilities to our company's hardware development and production technologies that have been competitive for many years."
Sang-Yoon Lee, CEO of Bloom Technology, mentioned, "As one the lightest and most scalable high-speed blockchains on the market today, Locus Chain is a blockchain that can be used most efficiently when the industrial environment migrates to the Web3 environment. Locus Chain maintains full decentralization, which is especially relevant in the smart mobility sector where vast amounts of data are created and transferred between the network actors."
Contact: 
Business Development Manager at Bloom technology: David Wang
david@bloomtechnology.co.kr
Website: https://www.locuschain.com/
To view the source version of this press release, please visit https://www.newsfilecorp.com/release/151873