NFTYLabsDAO Announces the Launch of NFTY Finance
NFTYLabsDAO was founded in 2020 as a Decentralized Incubator backing the launch of the NFTY Finance Platform.
NFTY Finance, incubated by NFTYLabsDAO, to launch instant liquidity lending and borrowing services for NFTs in the fourth quarter of 2022.
NFTY Finance's DeFi hub will be accessible across EVM chains and will initially support ERC-721s.
California City, California--(Newsfile Corp. - August 19, 2022) - NFTY Finance, the upcoming NFT borrow and lend platform incubated by the NFTYLabsDAO, is launching to bring further liquidity incentives and innovation within the NFT-Finance sector. This anticipated project launch comes swiftly after a large rebranding effort took place to re-haul the vision and future goals of the NFTY Finance team. NFTY Finance is launching to allow current and future NFT holders to get loans from verified platform lenders.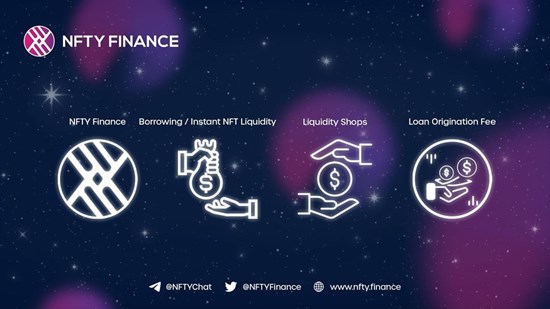 NFTYLabsDAO Announces the Launch of NFTY Finance
To view an enhanced version of this graphic, please visit:
https://images.newsfilecorp.com/files/8199/134354_19069b30b478ab6d_001full.jpg
This upcoming platform is launching with a new take on offered lending services with what the NFTY Finance team is calling, "Liquidity Shops." "Liquidity shops are one of the ways the NFTY Finance platform is innovating, being similar to traditional pawn shops in which a single owner creates them and has sole ownership and control over the customizability options we provide," says James Lawrence. As NFTY Finance launches, users will be able to start using the platform to borrow against their NFTs to see how these new innovations unfold.
James Lawrence, CEO adds:

"NFTY Finance is a unique new take on DeFi hubs as we know them, as it combines the instant liquidity capabilities normally reserved for fungible tokens with non-fungible tokens (NFTs). It enables anyone interested in becoming a lender to automatically issue loans with predefined parameters such as collateral, loan terms, and interest rates, and it enables borrowers to access liquidity shops that are open 24/7 to provide borrowers with instant liquidity. All loans issued will require the native NFTY token to be used as fees due to its unique model of loan origination fees."
About the Company:
NFTY Finance is a fully connected NFT-Fi platform, designed to make it simple for NFT holders to acquire value for their holdings and to provide a new, innovative lending option.
NFTY Finance aims to bring an authentic Web3 experience like none other where lenders, borrowers, and NFT Collections will all benefit from an enhanced, decentralized pawn shop experience.
Website: https://www.nfty.finance/
Telegram: https://t.me/NFTYChat
Twitter: https://twitter.com/NFTYFinance
Media Details:
Company Name: NFTY Finance
Contact Name: Ty Blackard
Email: ty@nftylabs.io
City: California City
Country: USA
To view the source version of this press release, please visit https://www.newsfilecorp.com/release/134354