Sensorium Galaxy Enters Public Playtest and Lays Out Global Metaverse Vision
Zug, Switzerland--(Newsfile Corp. - February 22, 2023) - Sensorium is announcing the launch of Sensorium Galaxy's VR multiplayer public playtest, opening up access to new virtual reality and content features inside virtual worlds, while also laying out a new metaverse doctrine.
Delivering on its promise to develop a metaverse with next-generation entertainment offerings, Sensorium is unveiling PRISM, a virtual world dedicated to music, as the first destination to become available to users. Inside this environment, visitors can take part in the galactic Sensorium Party 24/7, where Sensorium's pioneering AI avatars can be seen performing.
The new stage enables users to become familiar with the metaverse's VR mechanics, the immersive environments that underpin it, and avatar customization options.
Within these spaces, users will also have, for the first time, the opportunity of interacting with others in VR and via voice chat, meeting not only other human participants, but also virtual beings.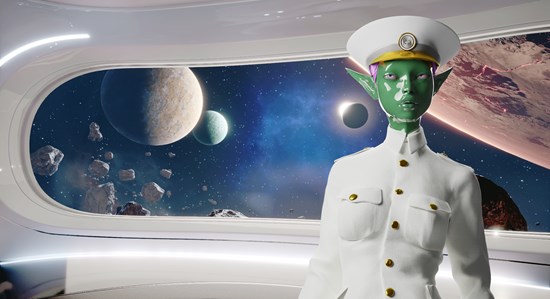 Sensorium Galaxy
To view an enhanced version of this graphic, please visit:
https://images.newsfilecorp.com/files/8703/155534_31a25d54a4d3d8c8_001full.jpg
Sensorium Galaxy is emerging as the first metaverse with photorealistic content and inhabited by a community of AI-powered avatars populating its virtual worlds. As such, the company is enabling social AI as a core technology in powering next-generation networking, relationship building, and content creation for users and artists alike.
In a demonstration of the unprecedented capabilities of generative AI technology to hold contextual conversations, Sensorium is opening up access to the Salvador Dali Experience. Within this virtual reality environment, users will have the opportunity to meet the AI avatar of the now-resurrected genius and chat with him across an endless number of topics.
"We are at the nascent of a new era in digital entertainment and Sensorium is challenging the limitations of modern life in the real world. The future will be exciting, interactive, generative and finally free from real or imaginary limitations. Sensorium is paving the way for users to live out alternative life scenarios in virtual worlds, build a digital self and achieve digital immortality through which they choose the digital footprint they're leaving behind and allow future generations to interact with it," explains Ingvar Goldman, Sensorium's Deputy CEO.
This metaverse's doctrine is further formulated by Sensorium's press secretary and AI-driven avatar Yonaka, who offers a detailed look at Sensorium Galaxy's global ambitions.
Built on top of Unreal Engine 5, as well as advanced VR and AI technologies, the depths of Sensorium Galaxy unfold across several virtual worlds, each dedicated to different types of entertainment and filled with curated content.
Developed in collaboration with nightlife entertainment visionaire, music trendsetter, and Hï Ibiza and Ushuaïa Ibiza founder Yann Pissenem, PRISM is already a confirmed destination for shows by acclaimed world-class performers, including David Guetta, Carl Cox, and Black Coffee, among others.
The first three performances by real-world musicians in PRISM are slated to take place during the first half of 2023, picking up from virtual artists being launched within PRISM now.
Scheduled for release in the second half of 2023, the virtual world MOTION will be next in introducing audiences to Sensorium Galaxy's virtual environments and its 'virtual life' mechanics.
Sensorium Galaxy
To view an enhanced version of this graphic, please visit:
https://images.newsfilecorp.com/files/8703/155534_31a25d54a4d3d8c8_002full.jpg
Sensorium Galaxy is available on Steam, where users can access the metaverse's public playtest, as well as the Sensorium Galaxy mobile app. Full cross-platform access, including a desktop version, will become available in the near future.
About Sensorium
Founded in 2018, Sensorium is a Swiss company and a leading metaverse developer, leveraging cutting-edge XR and AI technology to deliver next-generation virtual experiences in entertainment and social interaction.
The award-winning Sensorium Galaxy metaverse project, the company's flagship product, is currently the only global VR multiplayer platform that immerses users into multi-sensory experiences in virtual worlds, across content hubs of various forms.
These include immersive musical experiences in the epicenter of entertainment, PRISM world, self-discovery programs, and guided meditations unfolding within the spiritual environment of MOTION world, and a new type of transversal social interaction enabled by a million-strong community of AI-controlled autonomous virtual beings inhabiting the metaverse.
Sensorium leans on its long-standing collaboration with the world's best technology and entertainment partners to shape the environments and content of its metaverse.
In addition to the innovative developments in the fields of virtual reality and AI, accessible through a wide variety of interfaces, Sensorium is also a leading Web3 company enabling a stack of pioneering blockchain and decentralized solutions.
Media Details:
Company Name: Sensorium
Contact person: Matias Lapuschin
Contact email: matias.lapuschin@sensoriumxr.com
Website link: https://sensoriumgalaxy.com/
To view the source version of this press release, please visit https://www.newsfilecorp.com/release/155534