GenTech's SINFIT Nutrition Brand Qualifies for Mass Retail Status with Top Five Global Distributor Bringing Access to Millions of New Consumers at over 14,000 New Retail Outlets
New York, New York--(Newsfile Corp. - July 22, 2020) -  GenTech Holdings, Inc. (OTC Pink: GTEH) ("GenTech" or the "Company"), an emerging leader in the high-end Premium Coffee and Functional Foods marketplaces, is very excited to announce that the Company's Sinfit Nutrition (Sinfitnutrition.com) ("SINFIT") functional foods brand, has now officially qualified for "Mass Market Retail", FDM and Military status at Europa Sports ("Europa"), one of the largest supplement distributors in the world.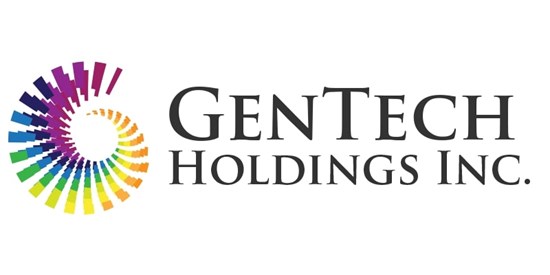 GenTech logo
To view an enhanced version of this graphic, please visit:
https://orders.newsfilecorp.com/files/6713/60241_7de636bd94ae19f7_001full.jpg
SINFIT logo
To view an enhanced version of this graphic, please visit:
https://orders.newsfilecorp.com/files/6713/60241_7de636bd94ae19f7_002full.jpg
Europa Sports has been a leader in the nutrition and performance space for 30 years. This distributor brings a large US network to the table, with more than 14,000 active wholesale customers receiving products from six (6) major distribution centers, aggregating over a quarter million square feet of total warehouse space, producing a two-day fulfillment rate of 96% on new orders.
"Mass Market Retail status with Europa opens up an enormous new marketplace for SINFIT products," commented David Lovatt, CEO of GenTech. "We have access to mass retailers and general goods outlets across the country - ie, Costco, BJ's, Sam's Club, and many more. As well as with Military Status achievement now, we will be able to sell directly into the Military based stores. This directly opens the door for us to gain access to millions and millions of new browsing end-market customers through Europa."
The Company's now completed contract with Europa provides access to its entire mass market footprint, which includes large retailers, general goods outlets, military exchange stores, gyms (Golds Gyms, Crunch Fitness, LA Fitness, Dicks Sporting Goods, Academy), FDM accounts (Harris Teeter, HEB, Akins & Chamberlin's, United Super Market, Kroger, Costco), and grab-n-go food and beverage outlets along 36 major trucking routes across the US.
The contract also provides access to a top-tier distribution infrastructure, including over 250,000 square feet of warehouse space, 26 strategically placed outside territory reps from coast to coast, Cooler Programs, Europa Data Feed programs, Web Fulfilment, gym programs, and a healthy lifestyle catalog catering to natural and organic products for health-conscious stores.
SINFIT branded products registered over $2.2 million in global sales in 2019, and are now approved for sale and available for purchase on the Walmart.com and Amazon.com e-commerce platforms as well as in over 2,500 GNC locations in North America, and over 10,000 global physical and e-commerce stores across more than 10 countries around the world. This latest upgraded status with Europa now sharply increases that exposure footprint. SINFIT products are also actively distributed by True North Nutrition, one of the largest sports and nutrition distributors servicing the Canadian market.
SINFIT products are well-positioned relative to their peers and to the long-term macro tailwind defining the functional foods market, which saw sales top $267 billion in February of this year on a global basis, with sales in the US reaching $63 billion, according to Euromonitor 2020. This trend is part of a larger supportive momentum in the general category, with global sales of organic food and drink topping $105 billion in 2018 (Ecovia 2019). U.S. organic food sales also reached $47.9 billion, up 5.9% in 2018 (OTA 2019). In 2019, 77% of U.S. adults used dietary supplements, an all-time high (CRN 2019). U.S. supplement sales are estimated to have reached $49.3 billion in 2019, up 6.2% (NBJ 2019).
About GenTech Holdings, Inc.:
GenTech Holdings, Inc. is a publicly traded company under the symbol GTEH. The Company launched a high-end Coffee Subscription service in early 2020 called Secret Javas and has recently closed on its acquisition of SINFIT Nutrition, which offers a range of high-end Functional Foods.
Forward-Looking Statements:
This press release may contain forward-looking statements, including information about management's view of GenTech, Inc.'s future expectations, plans and prospects. In particular, when used in the preceding discussion, the words "believes," "expects," "intends," "plans," "anticipates," or "may," and similar conditional expressions are intended to identify forward-looking statements. Any statements made in this news release other than those of historical fact, about an action, event or development, are forward-looking statements. These statements involve known and unknown risks, uncertainties and other factors, which may cause the results of GenTech, its subsidiaries and concepts to be materially different than those expressed or implied in such statements. Unknown or unpredictable factors also could have material adverse effects on GenTech's future results. The forward-looking statements included in this press release are made only as of the date hereof. GenTech cannot guarantee future results, levels of activity, performance or achievements. Accordingly, you should not place undue reliance on these forward-looking statements. Finally, GenTech undertakes no obligation to update these statements after the date of this release, except as required by law, and also takes no obligation to update or correct information prepared by third parties that are not paid for by GenTech.
Corporate Contact:
invest@gentech.group
www.gentechholdings.com
To view the source version of this press release, please visit https://www.newsfilecorp.com/release/60241