HIVE Blockchain Q3 F2023 Results Earnings Webcast
Vancouver, British Columbia--(Newsfile Corp. - February 28, 2023) - HIVE Blockchain Technologies Ltd. (TSXV: HIVE) (NASDAQ: HIVE) (FSE: HBFA) (the "Company" or "HIVE") pleased to announce that our fiscal Q3 earnings webcast for the three and nine months ended December 31, 2022 is now available.
This release represents the first full quarter after the Ethereum Merge, which negatively impacted HIVE's revenue and mining margins.
However, the Company maintained a positive mining margin and grew Bitcoin production year-over-year, despite a 60% increase in mining difficulty.
Additionally, HIVE saw rapid growth in its high-performance computing (HPC) business line, which utilizes our powerful GPUs. This business reached a $1.3 million run rate, and management sees significant room for growth in this area.
HIVE operates a fleet of powerful NVIDIA 80GB commercial GPUs, and with the recently advances in artificial intelligence (AI), such industrial GPUs are in high demand.
Highlights:
13% YoY increase in Bitcoin mined, despite ~60% difficulty increase
$3.6 million gross mining margin
Bitcoin holdings increased 30% YoY
Pre-tax net loss of $90 million due to impairment in value of ASIC's, GPU's and digital currencies
Reached $1.3 million run rate for HPC/AI operations
Select slides from the presentation: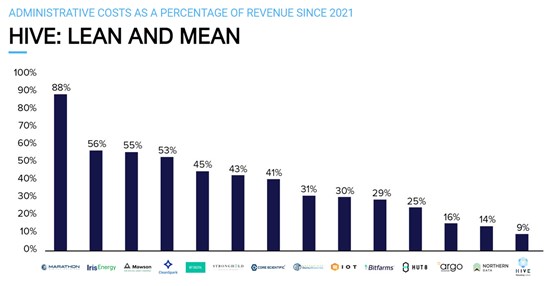 Figure 1
To view an enhanced version of this graphic, please visit:
https://images.newsfilecorp.com/files/5335/156599_41fcf50ed4ef9a36_001full.jpg
Figure 2
To view an enhanced version of this graphic, please visit:
https://images.newsfilecorp.com/files/5335/156599_41fcf50ed4ef9a36_002full.jpg
Figure 3
To view an enhanced version of this graphic, please visit:
https://images.newsfilecorp.com/files/5335/156599_41fcf50ed4ef9a36_003full.jpg
View the full presentation on YouTube.
About HIVE Blockchain Technologies Ltd.
HIVE Blockchain Technologies Ltd. went public in 2017 as the first cryptocurrency mining company with a green energy and ESG strategy.
HIVE is a growth-oriented technology stock in the emergent blockchain industry. As a company whose shares trade on a major stock exchange, we are building a bridge between the digital currency and blockchain sector and traditional capital markets. HIVE owns state-of-the-art, green energy-powered data centre facilities in Canada, Sweden, and Iceland, where we source green energy to mine on the cloud and endeavour to build a significant HODL position of Bitcoin. Since the beginning of 2021, HIVE has held in secure storage the majority of its ETH and BTC coin mining rewards. Our shares provide investors with exposure to the operating margins of digital currency mining, as well as a portfolio of cryptocurrencies such as BTC. Because HIVE also owns hard assets such as data centers and advanced multi-use servers, we believe our shares offer investors an attractive way to gain exposure to the cryptocurrency space.
For more information and to register to HIVE's mailing list, please visit www.HIVEblockchain.com. Follow @HIVEblockchain on Twitter and subscribe to HIVE's YouTube channel.
On Behalf of HIVE Blockchain Technologies Ltd.
"Frank Holmes"
Executive Chairman
For further information please contact:
Frank Holmes
Tel: (604) 664-1078
Neither the TSX Venture Exchange nor its Regulation Services Provider (as that term is defined in policies of the TSX Venture Exchange) accepts responsibility for the adequacy or accuracy of this news release.
To view the source version of this press release, please visit https://www.newsfilecorp.com/release/156599