DNI Metals: Assays for an Additional 17 Drill Holes and 1 Trench Received; Including 14.64m Grading 9.92% Graphitic Carbon from Surface and 24.00m Grading 7.71% Graphitic Carbon in Trenching (4m depth)
Toronto, Ontario--(Newsfile Corp. - March 5, 2018) - DNI Metals Inc. (CSE: DNI) (FSE: DG7N) (OTC Pink: DMNKF) ("DNI" or the "Company")
Highlights:
VHTAC0018: 10.50m@6.81% GC; from 4.00m in northern Main Zone;

VHTDD0021: 21.49m@5.24% GC; from 25.23m in northern Main Zone;

VHTDD0022: 14.52m@7.49% GC; from 0.50m (incl. 3.77m@12.00% GC; from 2.25m) in northern Main Zone;

VHTDD0028: 14.64m@9.92% GC; from 0.00m (incl. 2.84m@13.44% GC; from 2.66m & 5.15m@10.24% GC; from 6.00m) in central Main Zone;

Trench #05: 24.00m@7.71% GC; commencing 1.50m from western terminus (incl. 6.00m@11.13% GC; from 4.50m & 4.50m@10.40% GC; from 16.50m) in the extreme south of the Main Zone; and

Trench #05 confirms the presence of significant graphite mineralisation open to the south and east of the current Main Zone boundary.
DNI is pleased to announce the following (refer to Figures 1 & 2, following):
Receipt of an additional ten (10) batches of drilling and trenching assay results from its recent drilling and trenching programme at its 100%-owned Vohitsara Graphite Project in Madagascar; incorporating 17 additional assayed drill holes from both the Main and Southwest Zones. All but four (4) holes were mineralised — the unmineralised holes were all from the western portion of the Southwest Zone;

Drilling continues to confirm that saprolitic weathered material amenable to free-dig extraction, has been developed to depths in excess of 30 metres below natural surface; averaging 28m;

As previously reported, all drill and trench samples from the 2017 drilling programme are currently at the lab. Results for all drill holes are now received. Additional resamples for selected trenching intervals remain outstanding.
Dan Weir, CEO, commented: "With the receipt of the remainder of the drilling results we continue to be encouraged by the tenor of the graphite mineralisation at our 100%-owned Vohitsara project. Nearly 15 metres grading just under 10% graphitic carbon right in the central portion of our main mineralised target area is an excellent result. In particular, The 24 meter intercept in trenching at the extreme southeastern margin of our Main Zone delineates a new and previously untested area of mineralisation and potential extension to the current strike length of the Main Zone. We are now ready to move forward calculating the mineral resource at Vohitsara and with building the pilot plant / small-scale production at our 100%-owned Vohitsara project, in 2018."
The majority of holes assayed were mineralised. A lower cut-off grade of 3.00% GC was applied to mineralised intercepts.
A full listing of all 806 assay results is appended at the back of this document.
Disclosure: Note that insufficient geological data currently exist to accurately determine true mineralization widths as compared to intersection widths as listed in Table 1 above. Note also that the intersected mineralization is hosted within weathered in-situ saprolitic material and is known to be broadly disseminated within this regolith horizon in the area currently being tested by drilling.
Several of the reported holes were collared over previously drilled reverse circulation ('RC') drill targets:
Drill holes and trenches collared in the Main Zone ('MZ' in the Collar table following) are plotted on Figure 1 below, whilst those collared in the Southwest Zone ('SWZ') are plotted on Figure 2.
VHTDD0020 was collared over previously reported RC hole VHTAC0028; the latter returning 15m grading 5.84% GC; from 2.50m and 9.00m grading 5.03% GC; from 23.50m down hole.
VHTDD0021 was collared over previously reported RC hole VHTAC0029; which had returned 9.00m grading 8.39% GC; from 13.00m.
Finally, VHTDD0028 was collared over previous RC hole VHTAC0014; which returned 11.50m grading 7.23% GC; from surface.
Table 1: Composite Results:


Table 1: Composite Results
To view an enhanced version of Table 1, please visit:
https://orders.newsfilecorp.com/files/1803/33320_dni1enhanced.jpg
While comparable, the equivalent core drilling intercepts demonstrate a generally higher tenor, more consistent assay response, than do their reverse circulation counterparts.
Of additional significance is the 24m intercept in Trench 05 at the extreme south of the current extent of the Main Zone (refer Figure 1). The entire intercept grades 7.7% GC; with nearly half of the total width grading above 10% GC. Geographically, this trench is located on the north slope of a large hill and the habit of the exposed mineralisation indicates that the Main Zone extends to the south and east of its current delimitation.
Drill Collars:


Drill Collars
To view an enhanced version of Drill Collars, please visit:
https://orders.newsfilecorp.com/files/1803/33320_dni2enhanced.jpg
All representative samples were prepared and collected by or under supervision of DNI's Country Manager, Steven Goertz. Mr. Goertz is a Geologist and is a Qualified Person under NI43-101 regulations. Mr. Goertz has approved this Press release.
The samples were processed at AGAT Laboratories, in Ontario, Canada. Graphitic carbon assays were performed using a modified infrared assay method. This method is preferable to other industry-accepted assay methods; inclusive of varying forms of Loss on Ignition (LOI) testing. All analysis were preformed using LECO instruments.
About DNI Metals
Certain advisors and directors of DNI have significant operational experience at historical hard rock graphite mines in Canada (e.g. Ontario and Quebec) and Australia. Between them, they have built three (3) processing plants and designed two (2) others; all, which were shut down in the 1990,'s due to increased Chinese competition. Keith Minty, a director, previously worked at Cal Graphite near Kearny, Ontario.
It was our team's understanding of the high production and capital expenditure costs associated with so-called "hard rock" graphite mining that inspired DNI to search for saprolite-hosted graphite deposits.
Certain parts Madagascar and Brazil, produce graphite from weathered material called saprolite.
According to Dictionary.com, saprolite is described as:
"Soft, thoroughly decomposed and porous rock, often rich in clay, formed by the in place chemical weathering of igneous, metamorphic, or sedimentary rocks. Saprolite is especially common in humid and tropical climates. It is usually reddish brown or grayish white and contains those structures (such as cross-stratification) that were present in the original rock from which it formed."
DNI owns two permitted, saprolite-hosted graphite projects in Madagascar, Vohitsara and Marofody, which are located 50kms from the country's main seaport. These projects are contiguous, with the bulk of their respective mineralisation located between two (2) and four (4) kms from the paved national highway; which bisects the tenement area. DNI intends to develop both the Vohitsara and Marofody projects, should the economic viability and technical feasibility be established. DNI has not yet established mineral resources or mineral reserves supported by a PEA or mining study (PFS or FS).
DNI has a graphite wholesale business, in which it buys and sells high quality graphite. This business has shown a steady increase in volume over the past year.
Steven Goertz (MAusIMM, MAIG), who is a qualified person, approved the technical disclosure in this news release.
DNI — Canadian Securities Exchange
DMNKF - OTC
Issued: 98,941,018
For further information, contact:
DNI Metals Inc. — Dan Weir, CEO 416-595-1195
DanWeir@dnimetals.com
Also visit www.dnimetals.com
Forward-looking Statements
This press release contains forward-looking statements, including statements that relate to, among other things, the following: (i) the geological characteristics of the projects; (ii) the potential to discover additional mineralization and to extend the area of mineralization; (iii) the potential to raise additional financing; and (iv) the potential to expand and upgrade the resource estimate of the projects. Forward-looking information is subject to the risks, uncertainties and other important factors that could cause the Company's actual performance to differ materially from that expressed in or implied by such statements. Such factors include, but are not limited to volatility and sensitivity to market metal prices, impact of change in foreign exchange rates, interest rates, imprecision in resource estimates, imprecision in opinions on geology, environmental risks including increased regulatory burdens, unexpected geological conditions, adverse mining conditions, changes in government regulations and policies, including laws and policies; and failure to obtain necessary permits and approvals from government authorities, and other development and operating risks, and can generally be identified by the use of words such as "may", "will", "could", "should", "would", "likely", "possible", "expect", "intend", "estimate", "anticipate", "believe", "plan", "objective", "hope" and "continue" (or the negative thereof) and words and expressions of similar import. Although DNI believes that the expectations reflected in such forward-looking statements are reasonable, such statements involve risks and uncertainties, and undue reliance should not be placed on such statements. Certain material factors or assumptions are applied in making forward-looking statements, and actual results may differ materially from those expressed or implied in such statements. Additional information about material factors that could cause actual results to differ materially from expectations and about material factors or assumptions applied in making forward-looking statements may be found in the Company's most recent annual and interim Management's Discussion and Analysis under "Risk and Uncertainties" as well as in other public disclosure documents filed with Canadian securities regulatory authorities. Forward-looking statements are provided for the purpose of providing information about management's current expectations and plans relating to the future. Readers are cautioned that such information may not be appropriate for other purposes. The Company does not undertake any obligation to update publicly or to revise any of the forward-looking statements contained in this document, whether as a result of new information, future events or otherwise, except as required by law.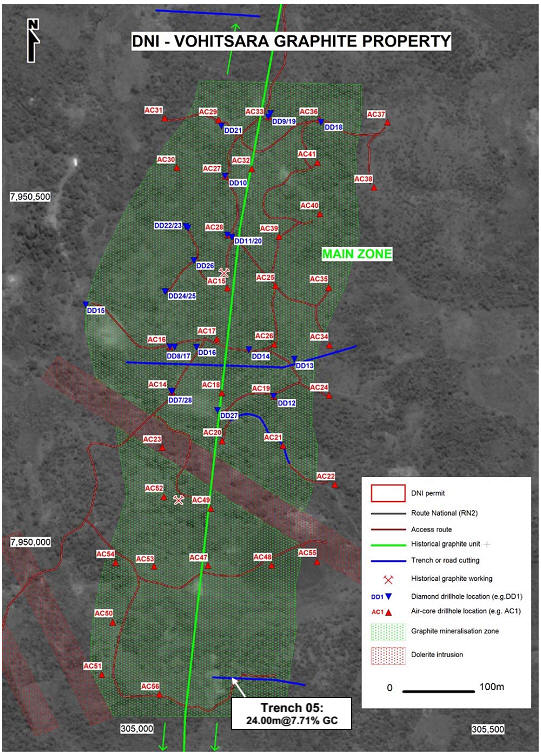 Figure 1: Summary Working Plan for the Vohitsara Project (Main Zone) - showing locations of all drill holes.
To view an enhanced version of Figure 1, please visit:
https://orders.newsfilecorp.com/files/1803/33320_dni3enhanced.jpg


Figure 2: Summary Working Plan for the Vohitsara Project (Southwest Zone) - showing locations of all drill holes.
To view an enhanced version of Figure 2, please visit:
https://orders.newsfilecorp.com/files/1803/33320_dni4enhanced.jpg
APPENDIX 1 — ASSAY RESULTS — DRILLING:


Assay Results 1
To view an enhanced version of this graphic, please visit:
https://orders.newsfilecorp.com/files/1803/33320_dni5enhanced.jpg


Assay Results 2
To view an enhanced version of this graphic, please visit:
https://orders.newsfilecorp.com/files/1803/33320_dni6enhanced.jpg


Assay Results 3
To view an enhanced version of this graphic, please visit:
https://orders.newsfilecorp.com/files/1803/33320_dni7enhanced.jpg


Assay Results 4
To view an enhanced version of this graphic, please visit:
https://orders.newsfilecorp.com/files/1803/33320_dni8enhanced.jpg


Assay Results 5
To view an enhanced version of this graphic, please visit:
https://orders.newsfilecorp.com/files/1803/33320_dni9enhanced.jpg


Assay Results 6
To view an enhanced version of this graphic, please visit:
https://orders.newsfilecorp.com/files/1803/33320_dni10enhanced.jpg


Assay Results 7
To view an enhanced version of this graphic, please visit:
https://orders.newsfilecorp.com/files/1803/33320_dni11enhanced.jpg


Assay Results 8
To view an enhanced version of this graphic, please visit:
https://orders.newsfilecorp.com/files/1803/33320_dni12enhanced.jpg


Assay Results 9
To view an enhanced version of this graphic, please visit:
https://orders.newsfilecorp.com/files/1803/33320_dni13enhanced.jpg


Assay Results 10
To view an enhanced version of this graphic, please visit:
https://orders.newsfilecorp.com/files/1803/33320_dni14enhanced.jpg


Assay Results 11
To view an enhanced version of this graphic, please visit:
https://orders.newsfilecorp.com/files/1803/33320_dni15enhanced.jpg


Assay Results 12
To view an enhanced version of this graphic, please visit:
https://orders.newsfilecorp.com/files/1803/33320_dni16enhanced.jpg


Assay Results 13
To view an enhanced version of this graphic, please visit:
https://orders.newsfilecorp.com/files/1803/33320_dni17enhanced.jpg


Assay Results 14
To view an enhanced version of this graphic, please visit:
https://orders.newsfilecorp.com/files/1803/33320_dni18enhanced.jpg


Assay Results 15
To view an enhanced version of this graphic, please visit:
https://orders.newsfilecorp.com/files/1803/33320_dni19enhanced.jpg